Contact us:
Have questions about prices, available rooms, how to get to us and more, contact us and we will answer all your questions. We will see so you get the rooms you need.
All our rooms and premises are smoke free area and are handicap friendly. If you have special needs in any form contact us and we can sort it out so it works so your stay here will be pleasant.
Contact information:
Lövstalund Bed & Breakfast
Skälby Lövstalund
152 97 Södertälje
Phone: (+46)08-647 32 98
Mail: lovstalundbed@yahoo.se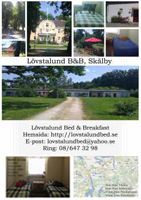 Flyers about Lövstalundbed
.
This we have send to the tourist information bureau but you can also see it here.
Open it, print it and share it.
(Uppdated 2011/Oct)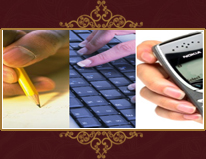 Easy to book
Book your room simle by sending us a mail: lovstalundbed@yahoo.se
If you have questions call us: (+46)08-647 32 98
Price singleroom 400 Skr/per bed & night , rooms with 2-3 beds 350 Skr/per bed & night
Open 24h per day, 365 days per year.

In the booking add what date/dates, number of people and other information you think we should know, like allergy or special needs or if you have any questions. Don't forget to add your name and contact information so we can confirm your booking.